About Us
Thank you for your interest in Gullwing Motor Cars, Inc. We take this opportunity to introduce ourselves to you as one of the largest dealers of European and American Classic and Exotic cars on the east coast of the U.S.A. We offer the most competitive prices in the market. We carry a stock of more than 100 cars at our warehouse location, visited by customers from all over the country and overseas. Please see our new inventory list. We update our website almost every day.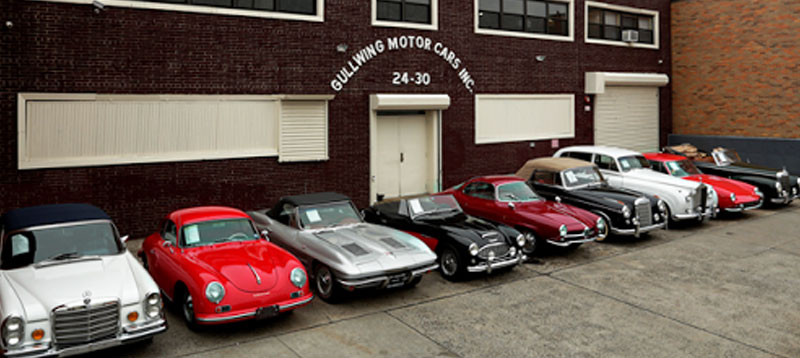 Gullwing Motor Cars Specialize In....
We specialize in European cars such as Mercedes Benz, Rolls-Royce, Bentley, Bugatti, Austin Healey, Jaguar, Porsche, Ferrari, MG, Triumph, Maserati, Morgan, Pegaso, Avanti, Alfa Romeo, Aston Martin, Delorean, Delage, Delahaye, Fiat - Topolino, Lotus, Lamborghini, and various others and American cars such as American Bantom, Buick, Chevrolet - Corvette, Impala, Camaro, Cadillac, Dual-Ghia, Ford - Mustang, Thunderbird, Plymouth - Cuda, Cord, Jolly, Duesenberg, Packard, Pontiac GTO, Lincoln, Auburn, Pierce-Arrow, Excalibur, Plymouth, Studebaker, and various other antique and classic cars. We thank you again and welcome any inquiries you may have for any cars that might be of interest to you.
Chasing Classic Cars Visits Gullwing Motorcars
Gullwing Motorcars was honored to be featured on the Velocity Channels hit show "Chasing Classic Cars". Our classic car collection is one of the most valuable collections in the world and something we are very proud of. We are always attempting to raise the bar in the collector car world.
If you are looking to purchase a vintage or collector vehicle...We would be glad to help put you in the car of your dreams!

Thanks for stopping by our website and don't hesitate to let us know how we can better service your needs.