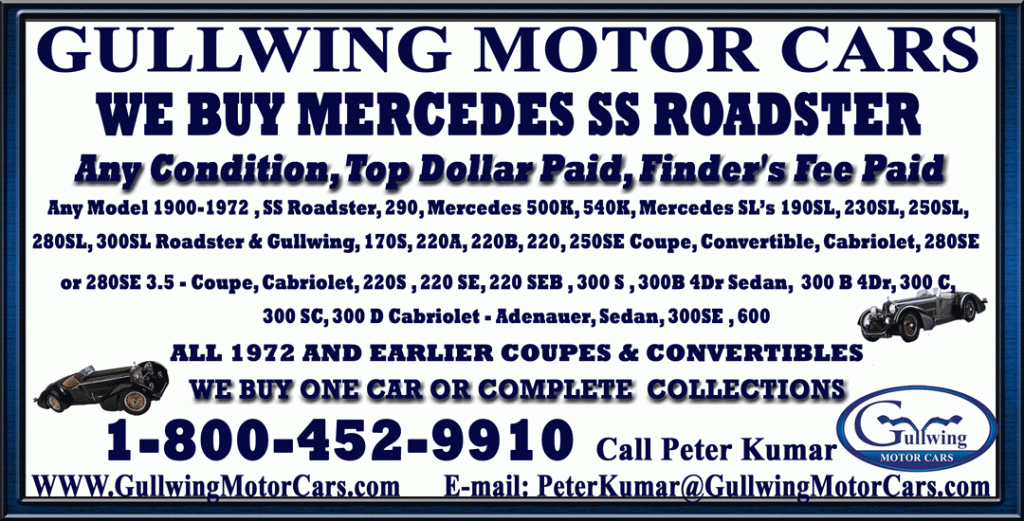 The Mercedes Benz SS roadster was a breakthrough car at the time. With a straight six engine being able to produce over 200 HP (depending on tune) it wasn't hard for most cars to reach over 100 mph. Like most cars of the day, all SS cars were coach built, meaning no two cars were the same. Only the front grill and interior appointments stayed the same.

SSK
The SSK was a very special car compared to the regular SS's of the day. Produced between 1928 and 1932, the SSK was designed by Ferdinand Porsche and had a supercharged 7L straight-six engine. It was the fastest car in its day topping off at 120 mph. Less than 40 of them were made and half of them became race cars. It was named Car of the Century by a panel of 132 motor journalists and online voters in 1999.

We are always looking for classic SS's to buy. If you have a SS for sale we can help you determine its value. If you know someone who has an older or classic SS for sale, let us know! We pay finders fees! Whether it has been sitting in a barn or a field for a long time, or it's a garage queen, we buy in any condition. Location is never an issue. We buy cars from all over the United States! Peter Kumar has over 27 years of experience.
Peter and Gullwing Motor Cars are world renowned in the classic car buying industry.
Please give us a call if you are considering selling your classic SS.

Call 1-800-452-9910 and ask for Peter Kumar
Or email him at peterkumar@gullwingmotorcars.com

We look forward to hearing from you!
Fast & Easy Deals For Our Sellers.
Quick Payment & pick up.
30 Years of Experience in Classic Cars.
We Gladly Pay Finder's Fee.
Please Feel Free to Call Peter Kumar at
1-800-452-9910 To Sell your Classic Cars